If You Want to Stand Out in the Crowd and Entice Multiple Buyers to Pay Above Asking Price for Your Dc Metro Home, Staging Will Most Likely Prove to Be a Key Component to Achieve the Ultimate Success.
Over the past decade, staging a home has become an increasingly popular and necessary step in the sales process.
Many home improvement magazines and websites feature monthly write-ups on the en vogue process. At one time, HGTV aired several highly rated shows centered around how and how not to stage your home for sale. In fact, of the network's top home design shows, practically every episode includes a staging segment.
There is even a growing footprint of professionals adept at presenting a home in its best possible light for prospective buyers.
If you want to stand out in the crowd and entice multiple buyers to pay above asking price for your DC Metro home, staging will most likely prove to be a key component for ultimate success.
Let's explore the elements of home staging, including what it is, the benefits and impact, the costs involved, the ways to make an impact, and, of course, if it indeed results in a significant difference.


What Is Staging?
Staging itself is a relatively simple concept. At its most basic, it's outfitting a home with furniture and accessories to show off the residence's strengths.
The central aims are to accentuate a home's livability and to broaden the property's appeal for a wide audience. Staging also helps to emphasize a home's assets while minimizing any shortcomings.
Through staging, a dark, uninviting family room transforms into a warm gathering place. A tight, oddly shaped den flourishes as a comfy work-from-home office. An underwhelming kitchen is accessorized into a high-end space to cook and converse.
Staging also creates the illusion that the house is something of a blank slate. It presents the residence as a place where potential buyers can easily envision themselves living or a home on which they can put their own stamp.
Beyond the physical impact that staging has on in-person tours, it makes an even greater impression online. Consider that
practically anyone looking for a home
conducts a portion of that search digitally. Staged homes are more photogenic, especially if you invest in high-quality professional photos. It is just one more way to enhance a home's overall appeal and listing presence.
Benefits and Impact of Staging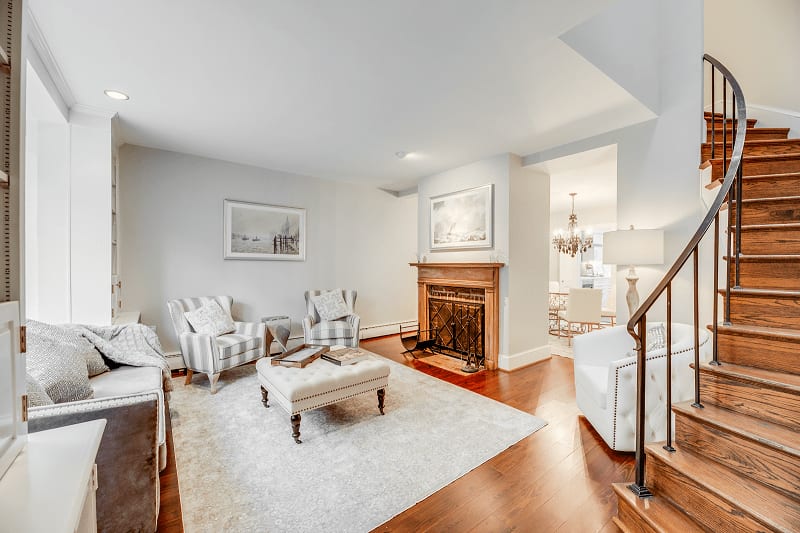 More than just making a positive impression on how a home shows, staging has a tangible effect on the property's actual sale.
In roughly 45% of cases, it may increase a home's value by as much as 10%. As for the offers a seller might receive, 29% could see an increase of between 1% and 5%, and another 21% an increase from between 6% and 10%.
Of course, selling a home isn't just about dollar values and above-listing offers. When you list a house, you don't want it lingering on the market. The longer a home remains listed, the less attractive it becomes and the less value it carries. Right or wrong, home shoppers will assume there is an issue with the home. This mindset is magnified during hot markets.
Staging your home correlates with lowering the time it spends on the market.
According to sellers' agents
, 39% believe staging greatly decreases the time a home spends on the market. Another 23% sees it as slightly reducing a home's market listing time frame.
Home value and market time ultimately are determined by location and housing type. Hot real estate markets, such as the current luxury D.C. market, matter too. However, staging provides an additional push that can distinguish homes on equal footing or make a unique or niche property more desirable and easier to sell.
Costs of Staging
As we mentioned earlier, staging has gained a lot of traction over the past decade. The rise in popularity — and in many competitive luxury markets, a necessity — of staging a home has given rise to a subcategory of interior home designers: professional stagers.
When contemplating if and how you might stage your home, you need to keep in mind that it isn't an easy weekend job. There is a considerable amount of time that goes into coordinating a home's staging process. Even if it's just a few rooms, novices can quickly become overwhelmed.
Staging is the equivalent of a short-term move. You move furniture and accessories out, then move new furniture and accessories in, and hopefully get it all accomplished in a short amount of time. In addition, some staging services go beyond new seating arrangements and conversation pieces. Decluttering and both minor and major repairs may also be part of a firm's offerings.
Typical costs can range from $2,000 to $20,000 depending on the price point, project extent, and the requirements to make a large luxury home pop.
Top staging professionals are highly sought-after interior design specialists. With their services in great demand, they can command healthy fees, either a set amount or by the hour. Many firms even offer a choice of packages should your needs be more general.
However, with a multimillion-dollar luxury home, where time is essential and commanding top dollar is more so, investing in a professional stager and setup will yield a worthwhile ROI.
How to Make the Most Impact in Staging Your Home
With the finer points of staging defined, it's useful to understand how to make the most impact in staging your listing.
Even if you opt for the professional route, you should maintain a stake in the home's listing. Talk with your real estate professional to better define your exact staging needs.
Envision which buyers you want to appeal to or the type of buyer your home will attract. There is a Grand Canyon-size chasm between the needs and wants of a young, single, up-and-coming Beltway professional and those of a large established family. Your home's staging should reflect which buyer is most drawn to your home. It will also inform the type of staging firm or professional you consider hiring.
Don't shy away from doing a little of the staging yourself. Although we recommend a professional, you can take plenty of small initial steps to help the process along. First among them is decluttering and depersonalization. Although it might prove tedious, you want a buyer to feel as though the home is — or could be — theirs, and not one that belongs to someone else.
The other DIY step is updating your home's fixtures and hardware. Faucet and cabinet handles and knobs fall into the category of small touches that make a huge impact.
In creating a palette that is pleasing to most would-be buyers, think about new window treatments and lighting fixtures as well. Presenting a home that feels open, airy, and full of light is a significant selling point. These staging improvements can also fall under the DIY category. But if you're unsure of the particular direction to take, it's prudent to consult a professional.
You can talk to that same professional about paint colors and whether yours should be updated (keep it neutral), and which pieces of furniture should stay or go. If you're trying to sell a home that's already vacant, it's less of a mystery. If not, a good rule of thumb is to haul off the pieces that look too "lived in."
You don't need to rid yourself of a favorite piece of furniture. It might look great in your new home, but it shouldn't attract the bulk of attention in the property you're trying to sell.
Finally, selling your home is an emotion-packed endeavor. It's even more challenging when it's a home you've made many memories in. But try to separate yourself from the process.
Watching your property lose its imprint of your taste and style is jarring. But it's a vital step in your moving on. Remain objective and take professional advice and recommendations seriously to ensure you get the home sold.
So, Does Home Staging Matter?
If you haven't already surmised, yes, home staging does matter. It's essential in hot, ultra-competitive markets, such as those in and around D.C.
Staging makes a massive difference in drawing attention and the right buyers to your home. It can increase both your home's value and the value of the offers you receive and help you sell a home in a much shorter time frame.
Even with the costs involved, staging a luxury home is a sound investment to help you get the most from D.C. home listing. From for selling and buying in Alexandria or Arlington, Virginia, to information on Bethesda or Chevy Chase, Maryland, real estate, reach out to a Washington, D.C., realtor with a track record of success in masterful staging and maximizing the value of a home.
Are you ready to explore all that D.C. metro area has to offer? Discover homes for sale, both on and off market, throughout the DC metro area or head straight for the nation's capital and enjoy the dedication and support of a realtor with an exceptional track record of success, whichever direction your compass points.
Ready to sell? Marc offers his sellers custom, complimentary staging for all of his exclusive listings to ensure that the home is presented in its full glory. In addition, Marc works with his clients to assess every opportunity to elevate their home value and offers the Compass Concierge service to cover the cost for any pre-sale projects, interest-free, that will further enhance the final sale price and sell in the most expeditious timeline.