A Guide to Finding the Perfect Neighborhood to Call Home in D.C.
Choosing a place to live in a city as vibrant and sprawling as Washington D.C. can be a daunting task. With tons of different neighborhoods, each with a distinct personality, how do you decide which one is best for you and your family? Read on to learn more about the amazing neighborhoods D.C. has to offer.

American University Park
Right on the campus of American University, this neighborhood features beautiful tree-lined streets, plenty of culture, and a tight-knit community feel. For a college town, American University Park is relaxed and laid back.
Who lives here? Political figures love the privacy this area offers, and it's a great place to raise a family away from the chaos of the city. Residents get along well and tend to be more civic-minded.
What are the homes like? American University Park features residential streets with front porches and backyards. Homes tend to be smaller and more traditional, with lots of brick Colonials.
What is there to do? AU Park offers plenty of comforts of home, from Whole Foods to a Metro station. And of course, in such a close-knit community, there are always opportunities for block parties, barbecues, and celebrations. Millie's Spring Valley offers delicious New England seafood, and Turtle Park is a fun place for kids to play.


Arlington
The historic suburb of Arlington is known for its convenient location. Just a quick Metro trip into downtown D.C. and right over the river from Georgetown, it's easy to get around. It's also the perfect place to ride your bike or take your dog for a walk. The neighborhood is home to the Pentagon and Arlington National Cemetery.
Who lives here? Both families and single people love Arlington. There is also a steady influx of new residents, many of whom work at federal government or nonprofit offices nearby.
What are the homes like? Loft spaces above retail locations are common. Arlington also offers a mixture of older homes and luxury apartments.
What is there to do? Locals love to hike or bike at Mount Vernon Trail, and there are lots of biking and sporting goods stores to stock up on anything you might need. For delicious dinners, check out beloved local hangouts like Green Pig Bistro, Carlyle, and CIRCA at Clarendon.


Bethesda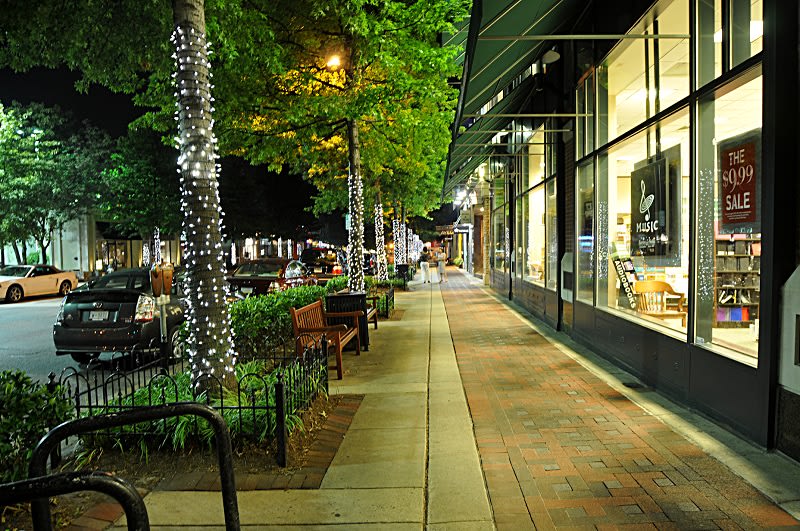 The suburb of Bethesda is best known for its pedestrian-friendly downtown area, which is also a thriving business hub packed with corporate headquarters. Streets are wide and walkable, and there are plenty of things to do.
Who lives here? Residents tend to be health-conscious and are often found outside enjoying the plentiful green space. Bethesda's variety of career opportunities and government jobs attract an array of young professionals.
What are the homes like? Older, refurbished homes are common, and there are plenty of modern luxury condos near the downtown area. Many homes are located within walking distance of upscale dining and shopping locations.
What is there to do? Nightlife in Bethesda is not quite as rich as downtown D.C., but it's easy to get to the city's excellent restaurants and bars. Residents love the local art galleries, theaters, and restaurants, and the Capital Crescent trail is great for running and biking. Grab a craft beer and a bite to eat at Barrel & Crow and enjoy upscale American fare at the Woodmont Grill.


Capitol Hill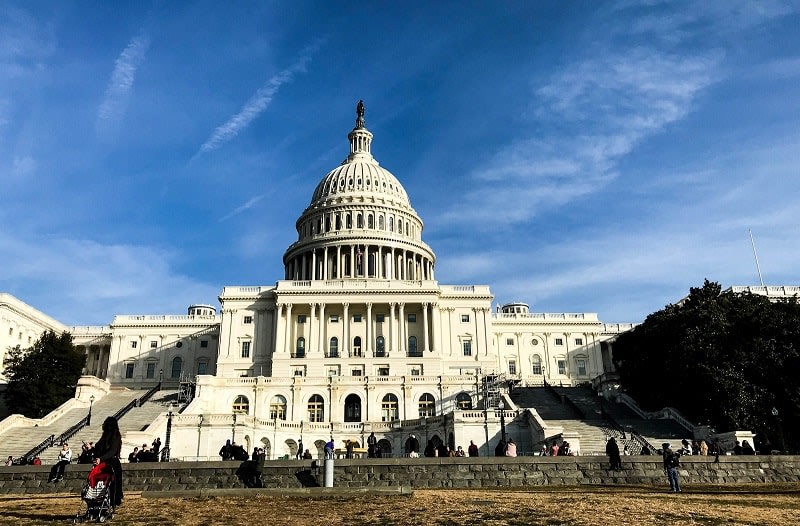 This political hub of Washington D.C. is home to one of the oldest residential neighborhoods in the city. The Supreme Court, Library of Congress, and of course, the Capitol building is located nearby. There's lots of history here, which adds to the area's gravitas. The lifestyle here tends to be more formal and professional, but residents still form a close-knit community.
Who lives here? As expected, Capitol Hill is home to many federal government workers and members of Congress. The residents are very politically-inclined and love to discuss current events and issues.
What are the homes like? Beautiful row houses contribute to Capitol Hill's historical feel. There are also lots of modern condos and a few apartment buildings.
What is there to do? Eastern Market is a D.C. staple, an incredible farmer's market, and a community hub. Barrack's Row, a nearby commercial strip, offers dining and shopping opportunities as well as community events; here, you can stop by a salon, take a yoga class, or get dinner at a stellar restaurant like Nooshi Sushi or Ambar. There are also plenty of happy hours for local professionals and political figures.


Chevy Chase
The picturesque community of Chevy Chase is perfect for people who want to be near a bustling city but prefer to live in a quieter area. This neighborhood is known for its small-town American feel, and residents are politically engaged.


Who lives here? Professionals or political figures who work in D.C. or nearby Bethesda call Chevy Chase home. Due to its strong community feel, the area is also popular with families.
What are the homes like? Most of the houses were built in the early 20th century and have a quirky or eclectic look. They tend to be single-family houses, but there are also options for condo living.
What is there to do? The beautiful Rock Creek Park is located in Chevy Chase, the perfect place to hike, bike, or even horseback ride. While there is not a lot of nightlife in Chevy Chase itself, the neighborhoods of Cleveland Park and Friendship Heights are close for more options.


Cleveland Park
The small neighborhood of Cleveland Park offers the comforts of home and a small-town atmosphere. Streets are tree-lined and walkable, and it's easy to get into downtown D.C. to experience the nightlife.
Who lives here? D.C. commuters love this area due to its proximity; just a quick Metro or car ride will take you into the city.
What are the homes like? Single-family homes with wrap-around porches and spacious yards are common, as are Tudor Revival buildings. The neighborhood is perfect for entertaining or meeting up with neighbors outside.
What is there to do? Cleveland Park's main retail strip is full of shopping opportunities—it makes up one of the nation's first strip malls. While there aren't many restaurants, it's easy to get to Georgetown for a fine dining experience.


Georgetown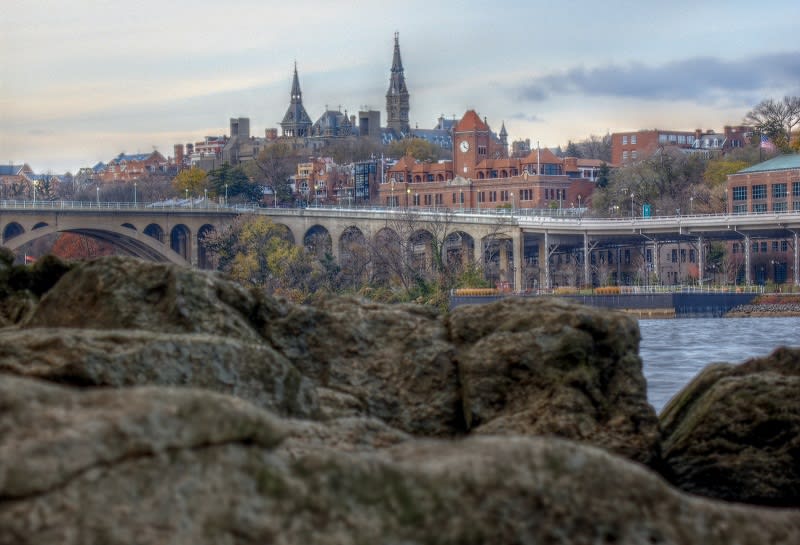 With its glamour and prestige, Georgetown is considered the quintessential Washington D.C. neighborhood. Its placement along the Potomac River creates a haven within a crowded city, and high-end shopping is abundant.
Who lives here? Due to its proximity to Georgetown University, this area is a common residence for students. Families also love Georgetown's energy, and political officials and diplomats tend to flock here.
What are the homes like? Georgetown is known for its unique combination of tradition and trendiness. Homes range from Federal townhouses to Georgian mansions to exclusive rowhouses, and streets lit by gas lamps create a beautiful sight. The waterfront tends toward industrial chic and is home to many trendy shops and cafes.
What is there to do? Tourists flock to the area to get a glimpse of Georgetown University's gothic spires and to shop and dine. You can go boating or kayaking on the Potomac River, and there are trails along the waterfront park. Enjoy French cuisine at Chez Billy Sud, take in the water views from Sequoia, and make sure to try out local staple Cafe Milano for Italian dining.


Logan Circle
Long considered one of D.C.'s most desirable neighborhoods due to its entertainment scene, there's always something fun going on in Logan Circle.
Who lives here? D.C. professionals love living in Logan Circle due to its proximity to downtown, and music and art lovers enjoy the cultural offerings.
What are the homes like? Elegant row homes and restored Victorian houses are common. You can also find beautiful modern lofts along 14th Street.
What is there to do? Logan Circle is home to some of D.C.'s best nightlife, with plenty of restaurants, bars, and music venues. Dine at Le Diplomate or grab a cup of coffee at Slipstream.


Woodley Park
This residential hideaway is close to D.C. nightlife while offering a peaceful retreat from urban life. Close to the Smithsonian National Zoo, there are plenty of things to do and see nearby.
Who lives here? Young professionals tend to flock to trendy Woodley Park, and plenty of residents have lived here for decades. D.C. transplants appreciate the area's lower rents, and tourists are common due to the nearby popular hotels.
What are the homes like? Woodley Park boasts a wide array of converted row houses and also offers high rise condos for more modern living.
What is there to do? The

Smithsonian National Zoo

is a must-visit! The nearby Connecticut Avenue offers plenty of local dining options, including cozy eatery Lillies Restaurant and modern British restaurant Duke's Counter.
Are you ready to learn more about luxury homes for sale in Washington D.C.?
Contact Marc Cowan
for more information.